JOE
Armchair designed by De Pas, D'Urbino, Lomazzi
Joe is a big comfortable chair in the form of a giant baseball glove, mounted on invisible wheels. With this project the designers, inspired by the poetics of Pop Art, gave material form to their admiration for the legendary American baseball star Joe DiMaggio. With a courageous shift of scale, they transformed the glove into a welcoming place to sit, inserting a hyperrealist figure borrowed from the world of art into the domestic environment.
To request information, please write to info@poltronova.it, for a quote to sales@poltronova.it.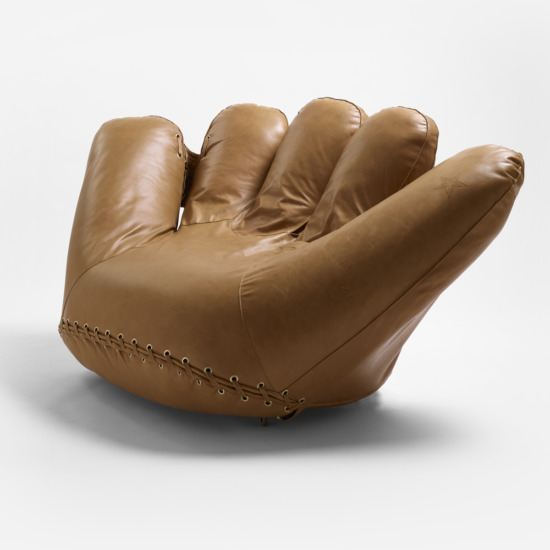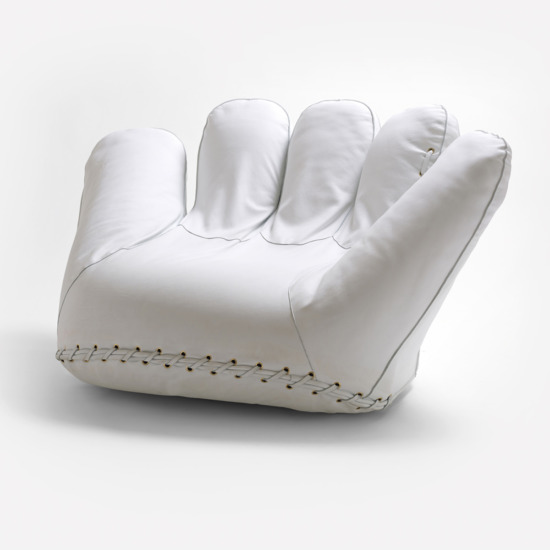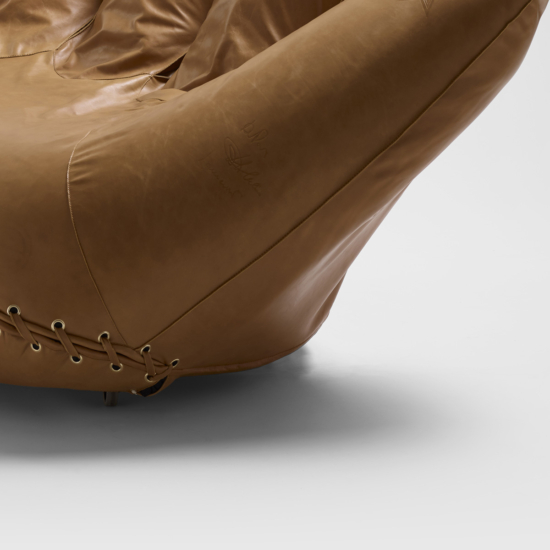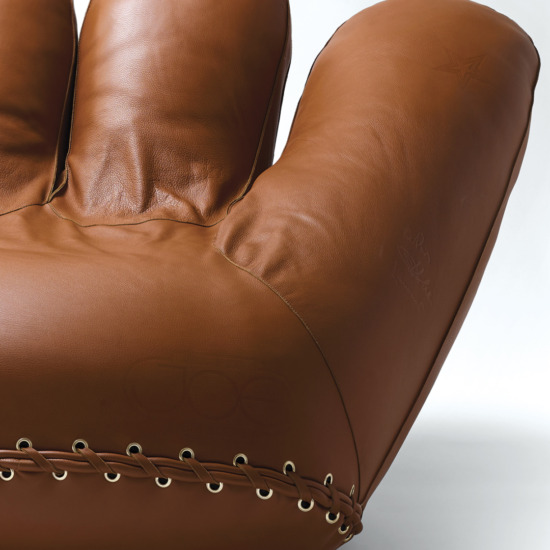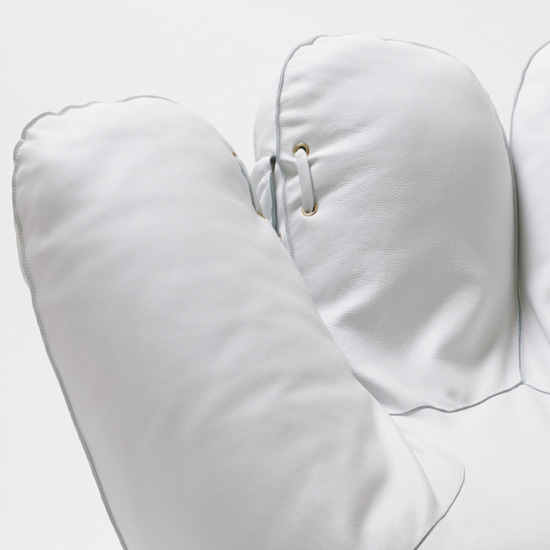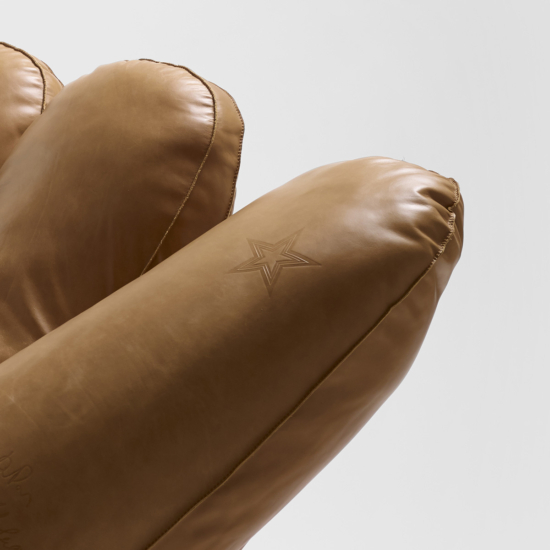 year
1970
—
typology
armchair
—
dimension
175[l] x 110[w] x 95[h] cm
—
weight
54 kg
—
materials
structure metal frame
padding preformed polyurethane foam
covering 10 sq meters of high quality soft leather
—
colours
wide range of colours
—
download
product leaflet | instructions
1970 Salone del Mobile, X, Milan 1972 Italy: The New Domestic Landscape, Museum of Modern Art, New York 2003 1945—2000: Il Design in Italia: 100 Oggetti della Collezione Permanente, Palazzo della Triennale, Milan travelled to 28 further venues in Europe, Asia and Australia / La Fabbrica Bella, Centro Cultural Justiça Federal, Rio de Janeiro / Altman Building, New York 2004 Radical Design, Casa Masaccio, Centro per l'Arte Contemporanea, San Giovanni Valdarno, Italy 2005 Italian Beauty 100 Esemplari al Top, Stadio Artemio Franchi, Florence 2006 50+2Y Italian Design, National Art Museum of China, Beijing 2007 50 Years of Italian Chairs, Innocentre, Hong Kong 2011 Le Fabbriche dei Sogni, Palazzo della Triennale, Milan / Meet Design, Museo dei Fori Imperiali, Rome and Palazzo Bertalazone, Turin 2014 Festival Cortona On The Move, IV Edition, Cortona, Italy / Presentazione Gazzetta dello Sport, Corriere della Sera, Milano 2015 Festival Cortona On The Move, V Edition, Cortona, Italy / Creativa Produzione: La Toscana e il design Italiano 1950—1990, Fondazione Ragghianti, Lucca, Italy 2016 Festival Cortona On The Move, VI Edition, Cortona, Italy / Domestic Icons, Milano Design Week, Milan 2017 Festival Cortona On The Move, VII Edition, Cortona, Italy / Meet "Joe Bloom", MIAAO, Turin / paristurin.ch shows Centro Studi Poltronova, Gallery marcoliver, Zürich 2018 Joeuts à Jouer: Oggetti nella foresta, Istituto Italiano di Cultura, Brussels 2019 Museo del Design Italiano, Triennale, Milan / I–Made: Italian Manufacture Art & Design exhibition, Saatchi Gallery, London 2020 Poltronova: La casa non domestica, Contemporary Cluster, Rome