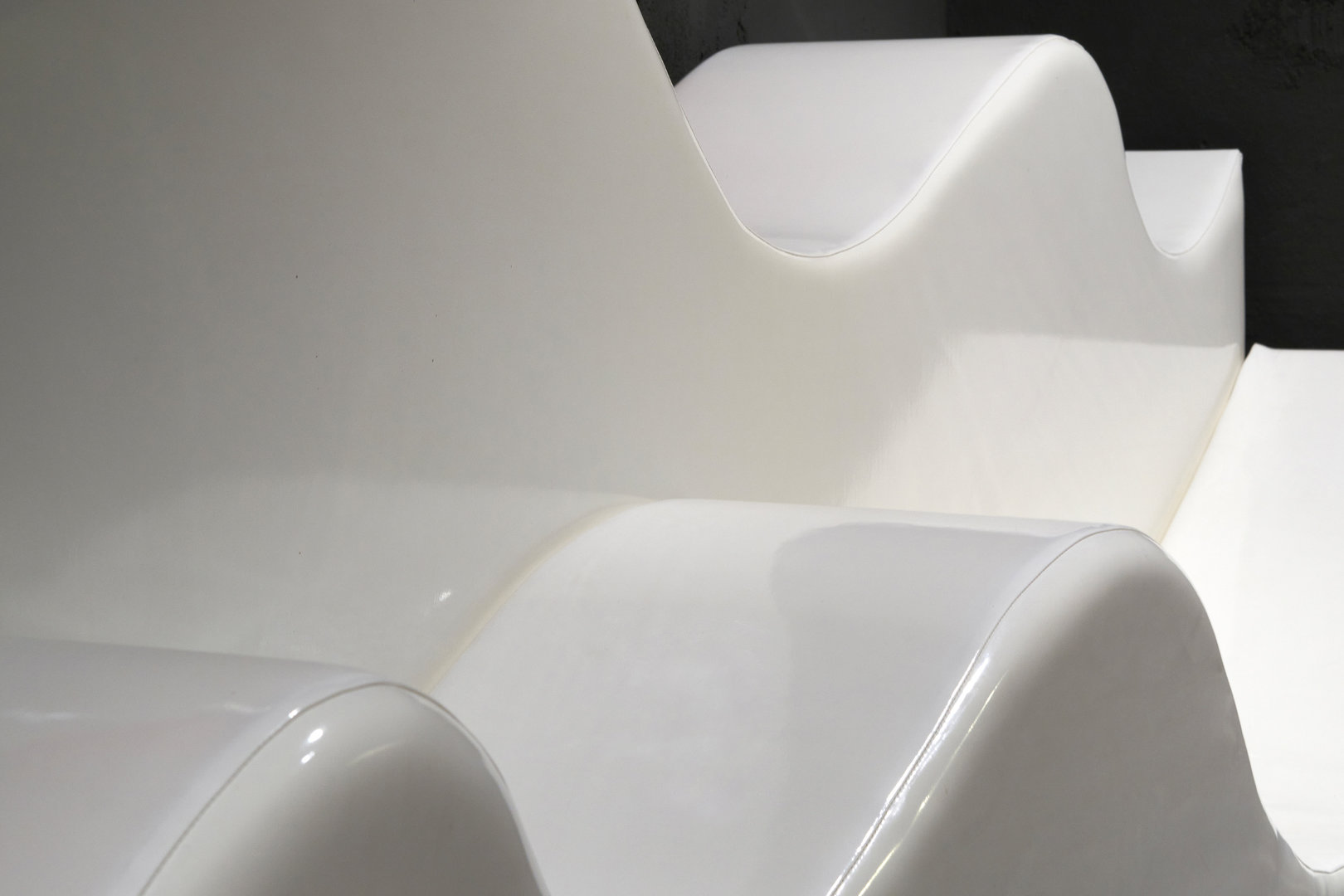 Chart
anno1967
tipologiadivano componibile
dimensioni240[l] x 36[p] x 100[a] cm
peso34 kg
materiali[struttura] ricavata da un blocco di poliuretano
[rivestimento] tessuto rivestito in PVC lucido
coloribianco, rosso o nero
downloadscheda prodotto | istruzioni
...
Mostre
1966Prototype Exhibited In Superarchitettura, Pistoia, Italy
1967First Presented at the 7th Salone del Mobile, Milan
1972Italy. The New Domestic Landscape, MoMa, New York
20031945—2000 Il Design In Italia: 100 Oggetti della Collezione Permanente del Design Italiano, Triennale di Milano, Milan | La Fabbrica Bella, Centro Cultural Justiça Federal, Rio de Janeiro + Altman Building, New York
2004Radical Design, Casa Masaccio, San Giovanni Valdarno, Italy
2005Italian Beauty: 100 esemplari al top. Trasformazioni nel design moderno, Florence and Calenzano, Italy
200650+2y Italian Design, Namoc, Beijing
2007Superarchitettura: Archizoom e Superstudio, Carla Sozzani Gallery, Milan | Speed: A Arte da Velocidade, Casa Fiat de Cultura, Belo Horizonte, Brazil | Archizoom Associati 1966—1974, École Polytechnique Fédérale De Lausanne, Lausanne | Italian Genius Now, Museum of Fine Arts, Hanoi + White House, Singapore
2008Design Parade, Villa Noailles, Hyères, France | Milano—Torino 1958—1968, Moderne Museet, Stockholm | Italian Genius Now, Korean Design Centre, Seoul + Italian Cultural Institute, Tokyo + Xue—Xue Centre, Taipei + Italian Cultural Institute, New Delhi
2009Italian Genius Now, MACRO, Rome
2010Biennale Internazionale del Design, Palazzo dei Capitani, Ascoli, Italy
2011Le Fabbriche dei Sogni, Palazzo della Triennale, Milan
2012Italian Genius Now, Santander Cultural, Porto Alegre, Brasil
2013Radical Mind—Radical Design, MuSA, Pietrasanta, Italy
2014Radical Tools, Base progetti per l'arte, Florence | A Misura di Libro, Ente Cassa Risparmio, Museo Marino Marini, Florence | Festival Cortona On The Move, IV Edition, Cortona, Italy | Andrea Branzi, pleased to meet you: 50 years of creation, Museum of Decorative Arts and Design, Bordeaux | Heretical Design, MARCA, Catanzaro, Italy
2015Internazionali Tennis BNL, Foro Italico, Rome | Creativa Produzione: La Toscana e il design Italiano 1950–1990, Fondazione Ragghianti, Lucca, Italy | Festival Cortona On The Move, V Edition, Cortona, Italy | Hungry Eyes, Area 35, Milan
2016Domestic Icons, Milan Design Week, Milan
2017Waiting for the sun, Galleria SpazioA, Pistoia, Italy | Radical Utopias. Beyond Architecture: Florence 1966–1976, Fondazione Palazzo Strozzi, Florence
2018Poltronova Superonda Special: Limited edition by Archizoom, Triennale Design Week, Milan | Utopie Radicali: Florence 1966–1976, Canadian Centre for Architecture, Montreal | Joeuts à Jouer: Oggetti nella foresta, Istituto Italiano di Cultura, Brussels | Home Futures, The Design Museum, London
2019Museo del Design Italiano, Triennale, Milan
2020Pistoia Novecento: Sguardi sull'arte del secondo dopoguerra, Palazzo de' Rossi, Pistoia, Italy | Poltronova: La casa non domestica, Contemporary Cluster, Rome
2022Design Italiano. La bellezza del quotidiano tra Italia e Argentina, Museo Nacional de Arte Decorativo, Buenos Aires
2023Ultrafavola. Poltronova beyond the mirror, Milano Design Week, Milano
...