GHERPE
Table lamp designed by Superstudio
The Gherpe table lamp does not belong to the traditional typologies of lighting fixtures placed on a surface, due to its form like the shell of a marine creature, and to its use of an industrial material like methacrylate. It represents one of the first examples of an interactive luminous object, which thanks to its relationship with the user is capable of changing its tone: from white light for illumination, to colored light to alter the emotional perception of a space.
To request information, please write to info@poltronova.it, for a quote to sales@poltronova.it.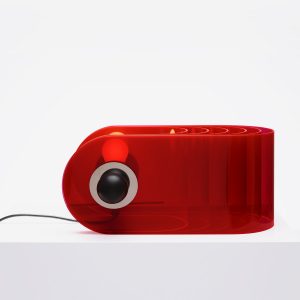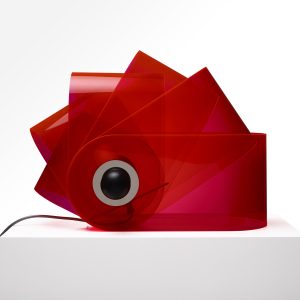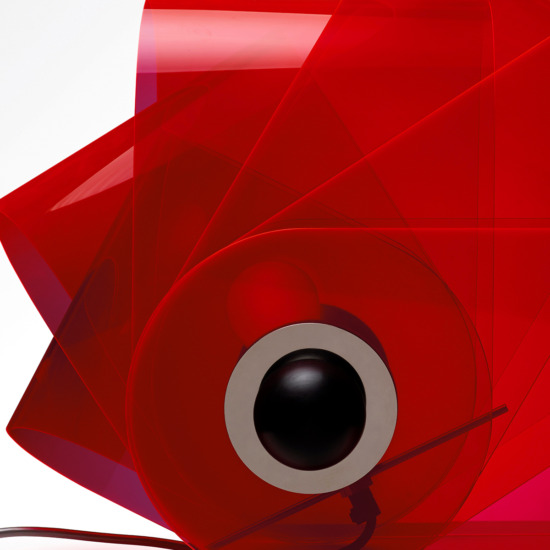 year
1968
—
typology
table lamp
—
dimension
53[l] x 31[w] x 38[h] cm
—
weight
4.3 kg
—
materials
diffusers cut and heat—formed Perspex®
plates and fittings polished steel
knobs turned nylon
—
bulb
1 x LED A60 E27 10W [max] 6400K
—
colours
fluorescent red / opaline white
—
download
product leaflet | instructions
1968 Eurodomus 2, Torino Esposizioni, Turin 1971 Domus Italian Design, Harrods, London 2007 Il Modo Italiano, MART Museo di arte moderna e contemporanea di Trento e Rovereto, Rovereto, Italy / Il Modo Italiano, MBAM Musée des beaux—arts de Montréal, Montreal / Superarchitettura Re—loaded, Carla Sozzani Gallery, Milan 2008 Plexiglas: Werkstoff in Architektur und Design = material in architecture and design, Institut Mathildenhöhe, Darmstadt, Germany 2010 Il Grande Gioco, Rotonda della Besana, Milan, Italy / Biennale di Design, Palazzo dei Capitani, Ascoli Piceno, Italy 2011 Superstudio Backstage, Museo Pecci, Prato, Italy 2013 Superstudio Backstage 1966–1978, Centro Arti Visive Pescheria, Pesaro, Italy / Radical Mind–Radical—Design, MuSa Museo multimediale della Scultura e dell'Architettura, Pietrasanta, Italy 2014 Habitat Jardin, Expo Beaulieu, Lausanne 2015 Creativa Produzione: La Toscana e il design Italiano 1950—1990, Fondazione Ragghianti, Lucca, Italy / Super Superstudio, PAC, Milan 2016 Superstudio 50, MAXXI Museo nazionale delle arti del XXI secolo, Rome 2017 Superstudio: Mobili 1966-2016, Ungers Archiv für Architekturwissenschaft, Cologne / Superstudio 50, Power Station of art, Shanghai / Radical Utopias. Beyond architecture: Florence 1966–1976, Fondazione Palazzo Strozzi, Florence 2018 Joeuts à Jouer: Oggetti nella foresta, Istituto Italiano di Cultura, Brussels / Italiana: L'Italia vista dalla moda 1971–2001, Palazzo Reale, Milan / Radical Utopias. Beyond architecture: Florence 1966 — 1976, CCA Canadian Centre for Architecture, Montreal / Vegetal House, MuMeDi, Museo Mexicano del Diseño, Mexico City 2019 The Undomestic House: Architettura e abitare, Galleria d'Arte Contemporanea "Osvaldo Licini", Ascoli Piceno, Italy 2020 Superstudio Migrazioni, CIVA, Brussels / Poltronova: La casa non domestica, Contemporary Cluster, Rome