ULTRAFRAGOLA
Mirror/lamp designed by Ettore Sottsass jr.
Ultrafragola mirror/lamp, with its sinuous profile that suggests long wavy hair, belongs to the Mobili Grigi series of complete bedroom and living room furnishings designed by Ettore Sottsass for Poltronova and presented at the third edition of Eurodomus in 1970. With the exception of Ultrafragola, the models never got beyond the prototype phase.
«As for the lights that are coming out of "The grey furniture", don't tombs always have a trembling light to illuminate the blue of the spirits wandering in the valley of dust? Don't submarines have a trembling green light in their belly? The lights anyway are supposed to come out from the fibreglass bodies, like the ever—glowing of the breast's white skin, like the ever—glowing of the penis red head in pornographic nights, something of this kind: I mean something like the Japanese lights of the glow worm that are turning the nights into matter.»
[Ettore Sottsass jr., 1970]
To request information, please write to info@poltronova.it, for a quote to sales@poltronova.it.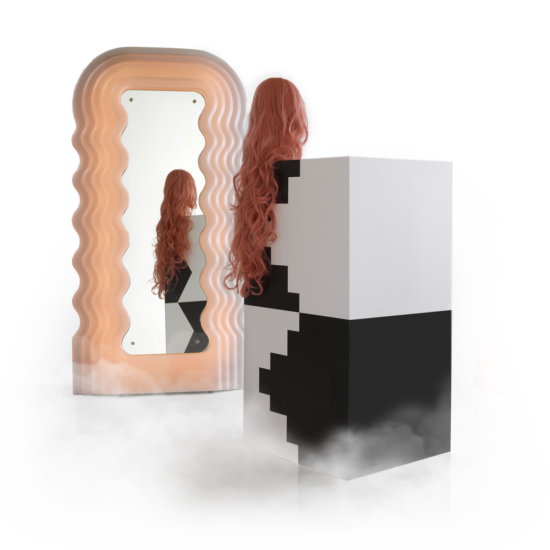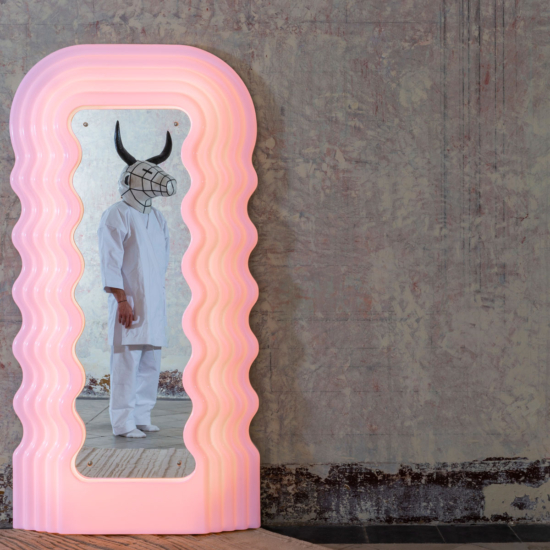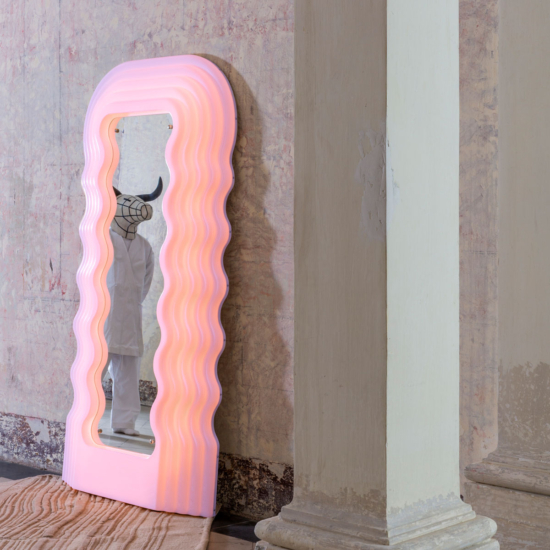 year
1970
—
typology
mirror with neon lights
—
dimension
100[l] x 13[w] x 195[h] cm
—
weight
34 kg
—
materials
vacuum—formed opaline PETG, mirror, LED or neon light system
—
colours
acrylic white opaline
light pink
n.b. The Ultrafragola mirror has been designed by Ettore Sottsass jr. in one colour only: light pink.
The shape, the size and the complexity of the lighting system, the brightness and the colour might be perceived slightly different, depending on the light, the type of picture, or the background and the surrounding environment.
Any different colours or shades of colour are not compliant with the original projects, they are not authentic.
Poltronova is at your full disposal for any further information you may require.
—
download
product leaflet | data sheet | instructions
1970 Eurodomus 3, Palazzo dell'Arte, Milan 1971 Domus Italian Design, Harrods, London 1991 Mobili Italiani 1961-1991. Le varie età dei linguaggi, Triennale, Milan 1999 Ettore Sottsass, Salone Internazionale del Mobile, Milan 2003 1945–2000 Il Design In Italia: 100 Oggetti della Collezione Permanente del Design Italiano, Triennale di Milano, Milan / La Fabbrica Bella, Centro Cultural Justiça Federal, Rio de Janeiro / La Fabbrica Bella, Altman Building, New York 2004 I Maestri: Design Italiano, Triennale di Milano travelling exhibition / Radical Design, Casa Masaccio, San Giovanni Valdarno, Italy 2005 Sottsass Progetti 1946—2005, MART, Museo di Arte Moderna di Trento e Rovereto, Rovereto, Italy 2006 Italy Made In Art: Now, Contemporary Arts and Industrial Design, Museum Of Contemporary Art, Shanghai / Ettore Sottsass Architect And Designer, LACMA, Los Angeles 2007 Plexiglass: Werkstoff in Architektur und Design = material in architecture and design, Institut Mathildenhöhe, Darmstadt, Germany / Ettore Sottsass: Vorrei Sapere Perché, Salone degli Incanti, Ex Pescheria, Trieste 2008 Abitare il tempo, Verona Fiere, Verona, Italy 2010 Biennale Internazionale del Design, Palazzo dei Capitani, Ascoli Piceno, Italy 2011 Creative Junctions, National Museum of China, Beijing / Meet Design: An Italian Story, Museo dei Fori Imperiali, Rome / Meet Design: An Italian Story, Palazzo Bertalazone, Turin / Le Fabbriche Dei Sogni, Triennale di Milano, Milan 2012 Pop Art Design, Vitra Design Museum, Weil am Rhein, Germany / Pop Art Design, Louisiana Museum of Modern Art, Humlebæk, Denmark 2013 Pop Art Design, Moderna Museet, Stockholm / Pop Art Design, Barbican Art Gallery, London 2015 Creativa Produzione: La Toscana e il design Italiano 1950–1990, Fondazione Ragghianti, Lucca, Italy / Firenze 4 ever, 11th edition, LuisaViaRoma, Florence / Pop Art Design, EMMA Espoo Museum of Modern Art, Henie Onstad Kunstsenter, Høvikodden, Norway 2017 Radical Utopias: Beyond architecture: Florence 1966—1976, Fondazione Palazzo Strozzi, Florence 2018 Joeuts à Jouer: Oggetti nella foresta, Istituto Italiano di Cultura, Brussels, Belgium / Italiana: L'Italia vista dalla moda 1971–2001, Palazzo Reale, Milan / Radical Utopias: Beyond architecture: Florence 1966–1976, CCA Canadian Centre for Architecture, Montréal 2019 Museo del Design Italiano, Triennale, Milan / I–Made: Italian Manufacture Art & Design exhibition, Saatchi Gallery, London / Porto Design Biennale, Palácio das Artes Fundação da Juventude, Porto 2020 Poltronova. La casa non domestica, Contemporary Cluster, Rome