SANREMO
Floor lamp designed by Archizoom Associati
The prototype of the Sanremo floor lamp was an engagement present from Dario Bartolini to Lucia Morozzi, given to her in the villa in Roccamare designed by Ernesto Nathan Rogers. Sanremo is composed of a slender metal trunk topped by "foliage" like that of a stylized palm tree, formed by lanceolate transparent or fluorescent green methacrylate leaves that radiate light. The prototype also called for a sound similar to the song of a cricket, eliminated in the production version.
«Since we were supposed to be practising architects, many people couldn't grasp what we were up to. In reality many of our objects were created for reasons other than that of architecture: an engagement party, a wedding. Any opportunity was good enough to materialise our vision of the world». [Lucia Bartolini, 2007]
To request information, please write to info@poltronova.it, for a quote to sales@poltronova.it.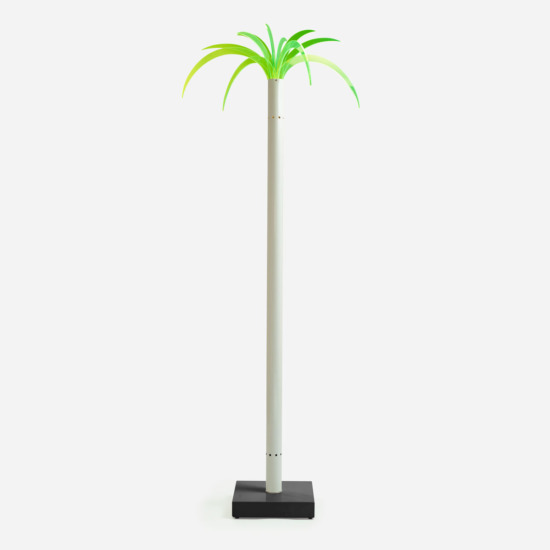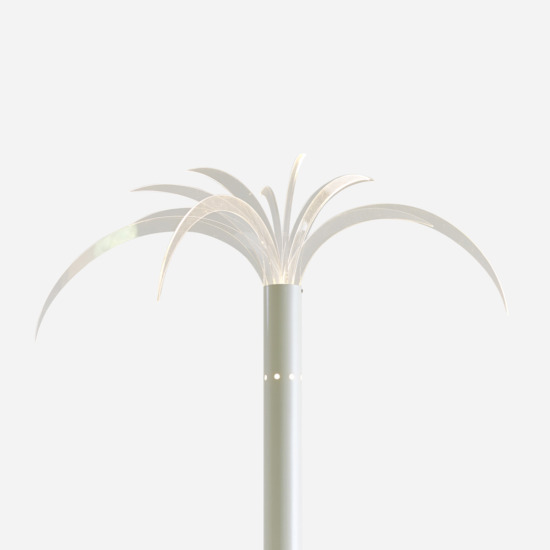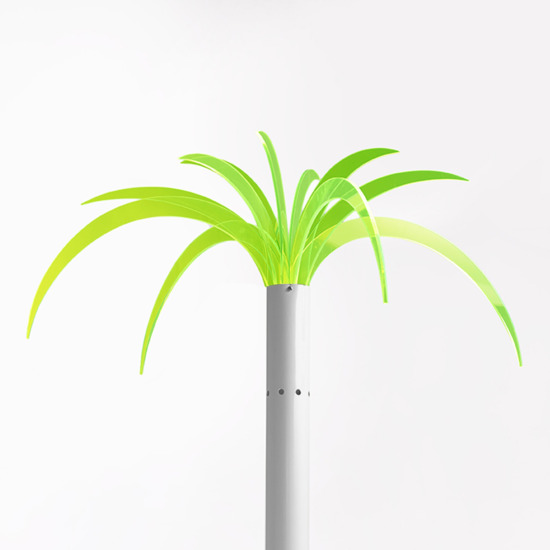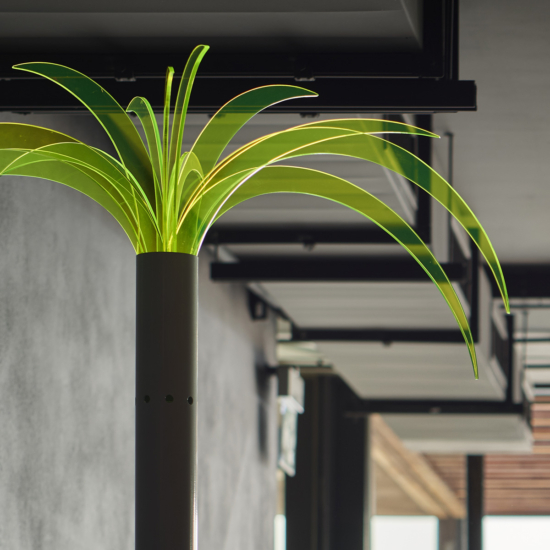 year
1968
—
typology
floor lamp
—
dimension
38[l] x 38[w] x 225[h] cm
—
weight
12 kg
—
materials
leaves laser—cut Perspex®
base and trunk pearlescent lacquered metal sheet and tube
—
bulb
1 x LED GU10 8W [max] 6400K
—
colours
trunk white
base black
leaves transparent / fluorescent green
—
download
product leaflet | instructions
1968 First presented at the 8th Salone del Mobile, Milan 1972 Italy: The New Domestic Landscape, Museum of Modern Art, New York 1991 Mobili Italiani 1961-1991. Le varie età dei linguaggi, Triennale, Milan 1998 La tecnica e le forme. Lampade italiane tra il 1946 e il 1996, Salone Internazionale del Mobile ed Euroluce, Milan 2005 Italian Beauty 100 Esemplari Al Top, Stadio, Florence 2007 Archizoom Associati 1966–1974, Ecole Polytechnique Federale De Lausanne, Lausanne / Il Modo Italiano, MART, Rovereto, Italy; Musee Des Beaux-Arts De Montréal, Montréal 2007—2009 Italian Genius Now, Museum of Fine Arts, Hanoi; White House, Singapore; Korean Design Centre, Seoul; Italian Cultural Institute, Tokyo; Xue-Xue Centre, Taipei; Italian Cultural Institute, New Delhi; MACRO, Rome 2010 Biennale Internazionale del Design, Palazzo dei Capitani, Ascoli, Italy 2012 Italian Genius Now, Santander Cultural, Porto Alegre, Brazil 2014 Festival Cortona On The Move, IV Edition, Cortona, Italy / Heretical Design, MARCA, Catanzaro, Italy 2015 Creativa Produzione: La Toscana e il design Italiano 1950-1990, Fondazione Ragghianti, Lucca, Italy 2017 Utopie Radicali: Oltre l'architettura: Firenze 1966 — 1976, La Strozzina Gallery, Florence 2018 Joeuts à Jouer: Oggetti nella foresta, Istituto Italiano di Cultura, Brussels 2018 Radical Utopias: Beyond architecture: Florence 1966 — 1976, CCA, Montreal / Joeuts à Jouer: Objects in the forest, Istituto Italiano di Cultura, Brussels / Vegetal House, MUMEDI, Mexico City 2019 Vitra booth, Salone del Mobile, Milan / I–Made — Italian Manufacture Art & Design exhibition, Saatchi Gallery, London 2019 Vitra booth, Salone del Mobile, Milan / I–Made — Italian Manufacture Art & Design exhibition, Saatchi Gallery, London 2020 Poltronova. La casa non domestica, Contemporary Cluster, Rome