MIES
Armchair and footrest designed by Archizoom Associati
The Mies armchair was born in 1969 from the idea of using a strip of para rubber or India rubber —strong, elastic materials— as a seat. The structure, a triangle in chrome—plated metal, brings out the purity of the silhouette. The headrest and footrest cushions are in ponyskin. The name emphasizes the similarity of the structure to the projects of Mies van der Rohe, as a tribute to the great master who died that same year. With its rigorous geometric design, the Mies armchair sums up the philosophy of Archizoom Associati, leading figures of the Italian Radical movement starting in the second half of the 1960s.
To request information, please write to info@poltronova.it, for a quote to sales@poltronova.it.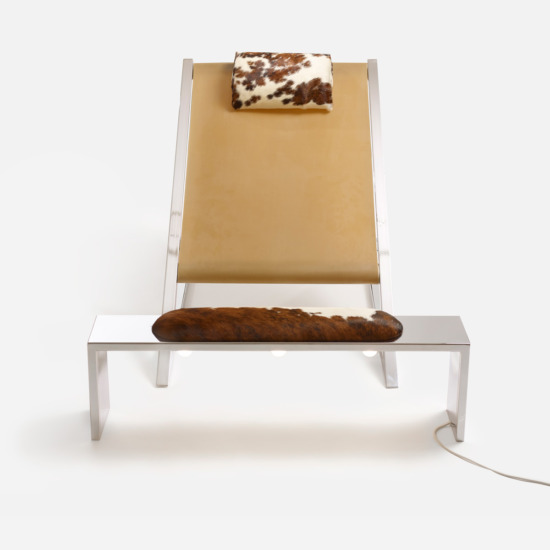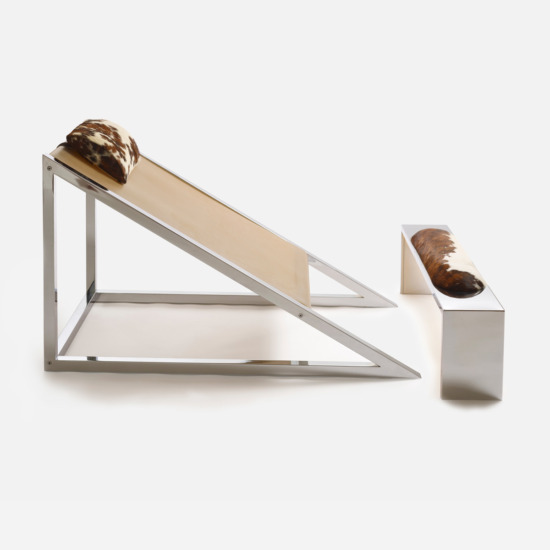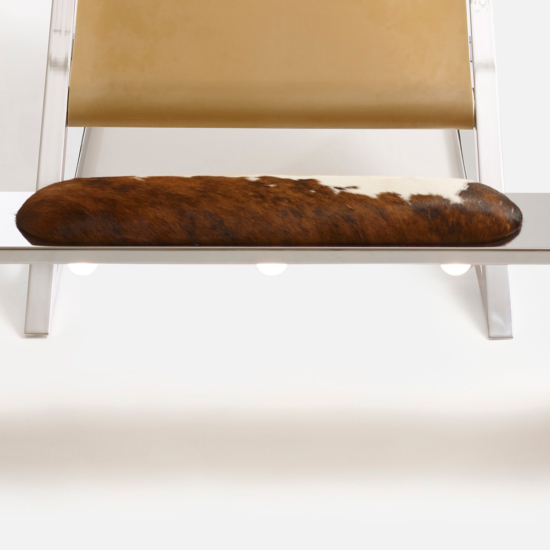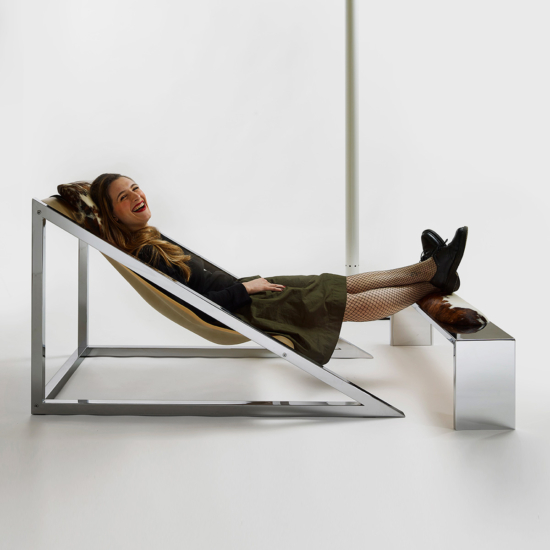 year
1969
—
typology
armchair and footrest
—
dimension
armchair 131[l] x 74[w] x 80[h] cm
footrest 105[l] x 20[w] x 34[h] cm
—
weight
armchair 18 kg
footrest 10 kg
—
materials
frame chrome—plated steel frame
seat latex sheet that deforms in response to the weight of the body
covering ponyskin
—
colours
structure metal
seat light brown
headrest white—brown
footrest white—brown
—
bulbs
3 x LED E14 3W [max] 3000K
—
download
product leaflet | instructions
1969 First presented at the 9th Salone del Mobile, Milan 1970 Modern Chairs 1918—1970, Whitechapel Art Gallery, London 1972 Italy: The New Domestic Landscape, Museum of Modern Art, New York 1991 Mobili Italiani 1961-1991. Le varie età dei linguaggi, Triennale, Milan 2003 1945—2000 Il Design in Italia: 100 Oggetti della Collezione Permanente del Design Italiano, Triennale, Milan / The Beautiful Factory, Centro Cultural Justiça Federal, Rio de Janeiro / Altman Building, New York 2005 Italian Beauty: 100 Esemplari Al Top: Trasformazioni Nel Design Moderno, Stadio Artemio Franchi, Florence 2007 Archizoom Associati 1966 — 1974, Ecole Polytechnique Federale De Lausanne, Lausanne / Il Modo Italiano, Mart Rovereto / Museè Des Beaux—Arts De Montreal, Montreal 2009 Serie Fuoriserie, Museo della Triennale, Milan 2010 Biennale Internazionale del Design, Palazzo dei Capitani, Ascoli, Italy / Il Grande Gioco, Rotonda della Besana, Milan / Pop Design, Filatoio di Caraglio, Cuneo, Italy 2017 Radical Utopias: Beyond architecture: Florence 1966–1976, Fondazione Palazzo Strozzi, Florence 2018 Radical Utopias: Beyond architecture: Florence 1966–1976, CCA, Montreal / Joeuts à Jouer: Objects in the forest, Istituto Italiano di Cultura, Brussels / Italiana: L'Italia vista dalla moda 1971—2001, Palazzo Reale, Milan 2019 The Undomestic House: Architettura e abitare, Galleria d'Arte Contemporanea "Osvaldo Licini", Ascoli Piceno / I–Made: Italian Manufacture Art & Design exhibition, Saatchi Gallery, London / Collezione permanente Museo del Design Italiano, Triennale, Milan 2020 Poltronova: La casa non domestica, Contemporary Cluster, Rome