Design Break 02 — Adolfo Natalini, Superstudio: Remembering Poltronova

We promise you that we will come back soon to make you dream.
In the meantime we give you pleasant readings on our fabulous world.
On December 4, 1966 an exhibition called Superarchitettura was inaugurated in Pistoia at the Jolly 2 gallery. Previously, I had held a show at the gallery with some paintings of mine. Many were sold. So the gallery owner asked me to hold another show. In the meantime, I earned my degree in Architecture, and I decided to stop painting because "no man can serve two masters". I suggested an exhibition on architecture but, seeing I really didn't have that much to show, I asked a few friends who had invited me to take part in an exhibition in Modena which had been postponed to join me in Pistoia. The event became the first radical architecture exhibition, which back then was called something else. In the exhibition, my friends were grouped under the name "Archizoom" and I, under "Superstudio". In that small basement gallery, the exhibition consisted of a series of violently colored objects that could be used as lamps, armchairs, and sofas but would never have become furnishings had Mr. Cammilli not attended the exhibition. He had been invited by his painter friends, Barni and Ruffi, who, with me, formed the "Pistoia school". The story then goes: "Natalini quit painting and Buscioni took his place". But that is a whole other story, even though the line between painting and architecture at that show was anything but certain. Cammilli was Poltronova, a company hidden in the countryside of Agliana (near Pistoia) that manufactured design furniture and complements with Ettore Sottsass serving as Art Director.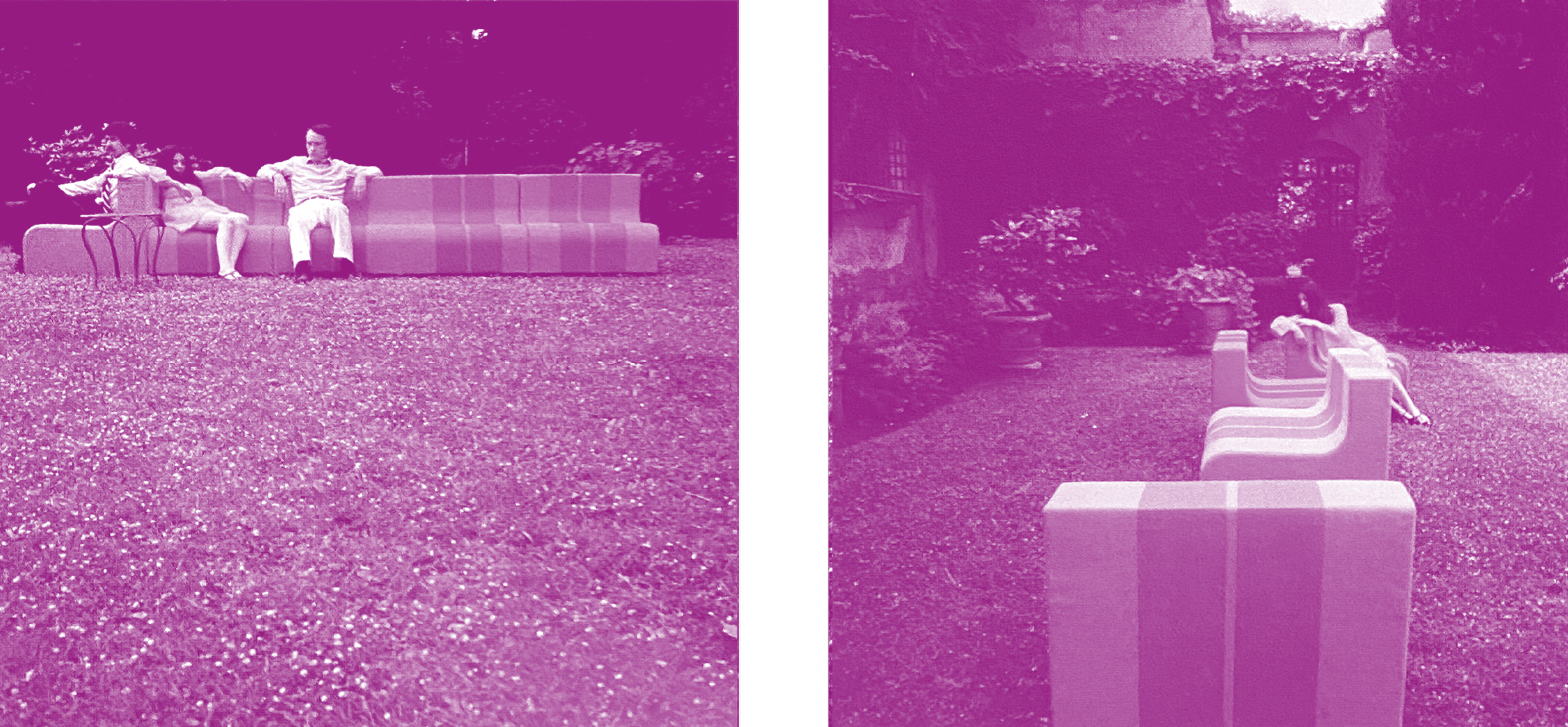 Prof. Cammilli (professor of drawing, I believe, but for us he was "The Professor") was also an artist. He was born around 1920 into a family of marble cutters. His uncle Edoardo was a sculptor in Italy and America. In the 1940s, he used to paint, as and between 1944 and 1950 he made beautiful stone sculptures that were praised even by Arturo Martini. Then, he had to give up sculpture and look for another job: "The physical effort sculpture required, in marble or stone, got in the way. Empty, lifeless years followed. Then I invented another occupation: interesting, but also quite demanding. Since then, I've always felt, almost on a daily basis, the disappointment of not having fulfilled something, a feeling of betrayal that's impossible to express" is what Cammilli wrote, and maybe this is why he was still an artist, but through others. He was really enthusiastic about what he caught sight of in this group of young people and their colorful works.
After the exhibition, the Superonda by Archizoom and the Passiflora and Sofo by Superstudio made their way into Poltronova's production. We found ourselves part of a family that included Sottsass, Aulenti, Michelucci, Mangiarotti… Besides Cammilli, what kept these people and above all their "pieces" together? Pier Carlo Santini, in Facendo mobili con… (Poltronova edizioni, 1977), writes: "Maybe what unites and joins all these materials is only the fresh inventive gesture, an alternative to the standard, the singularity and peculiarity of materials, the presence of color".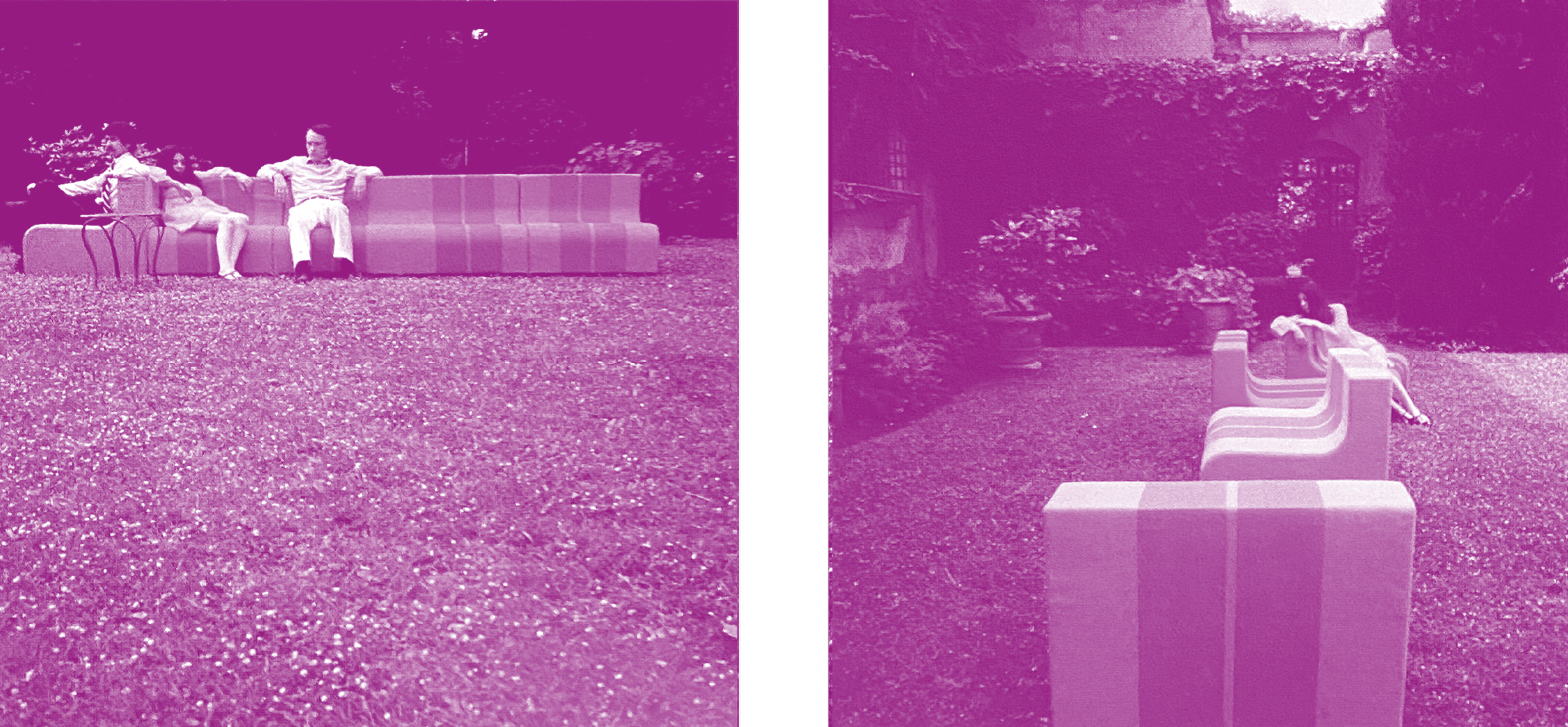 In short, Cammilli made furniture poised between art and design, poetry and industry. He didn't want to be an industrialist or a merchant. I believe that from a financial point of view, he was a disaster. In order to maintain their friendship, at a certain point Superstudio chose to give up their royalties in exchange for a few prototypes. For Superstudio, Poltronova was a workshop and a magical place. We'd bring them mounds of drawings, but very few became actual pieces of furniture and objects. But they were experiments just the same, ideas thrown into the future that, sooner or later, would become a reality.
It was a magical place because there we would meet Sottsass and his wife Nanda or even Allen Ginsberg. There we'd find art, books, and prototypes that could have enriched a design museum. Back then there weren't any design museums or design universities. You learned by going to workshops or, as in our case, to Poltronova. After Superstudio and Poltronova I continued with design for some years, but the mood had changed. A season had come to an end. The years went by and I became an architect, erecting buildings and parts of cities. Today, I've started painting again, just like Cammilli.
"Sofo is a seat that you can put in a row like a train, or use to build mountains and thrones, mountains and pyramids firmly planted in the ground. But at the end it is only a polyurethane block, a cube split in two parts by an "s" and then covered by material with two big stripes. It is the result of a very simple operation, without any material or intellectual waste. It appears like a big colored object, a little abstract maybe, like all the things with a bit of joy that look like things from another world." (Poltronova Backstage. Fortino Editions, 2016 www.fortinoeditions.com)